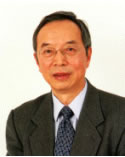 Zhu Dao-ben (1942- ) Chemist
Elected as CAS Academician in 1997.
Deputy Director, Director of ICCAS (1988-2000).
      Organic and physical chemist. Born in Shanghai . Graduated from Department of Organic Chemistry, Shanghai-Based East China University of Science and Technology in 1965 where he completed postgraduate study in 1968. Research professor and director, Institute of Chemistry , Chinese Academy of Sciences, and chairman of the Chinese Chemical Society.
      Since the 1970s, Zhu has been engaged in research on organic solids, one of the first scientists in China to start research in this field. Through his extensive studies, a series of new 1D and 2D organic conductors were discovered. He proposed and successfully introduced some structural characteristics of high-temperature superconductors for organic crystals, as a result of which, the first quasi-3D organic conductor was discovered. In connection with studies on organic ferromagnetism, dozens of organic compounds containing nitroxide radicals and magnetic LB films of nitroxide radicals were designed and prepared under his guidance. Based on these studies, he concluded that intermolecular interaction is the principal factor affecting the magnetic behavior of these molecular systems. The research results on the charge-transfer complexes based on C 60 , and the film structure of C 60 , C 70 as well as their derivatives have attracted great attention internationally.
      He was elected Member of the Chinese Academy of Sciences in 1997.