Research News
Researchers Find Ways to Inhibit Amyloid β Assembly
Date: 06-06-2019
source:
Print
A study in China published inAngew. Chem. Int. Ed. (https://onlinelibrary.wiley.com/doi/full/10.1002/ange.201901459) developed a strategy to covalently inhibit amyloid β (Aβ) assembly, disrupt preformed aggregations and decrease cytotoxicity both in vivo and ex vivo.
Proteins misfolding and abnormal aggregating are associated with multiple intractable diseases, such as Alzheimer's, Parkinson's and type Ⅱ diabetes. Regulation of protein aggregation process is considered as a hopeful way for the treatment of these diseases.
Previous works mainly developed inhibitors based on non-covalent interactions with target proteins. To acquire prolonged duration of inhibition and improved efficiency, the researchers designed and synthesized a reactive conjugated polymer (PPV-NP), which could attach to Aβ via synergistic hydrophobic interactions and covalent interactions.
The reaction of PPV-NP with Aβ not only inhibited the assembly of Aβ, but also break up preformed Aβ fibrils. Besides, PPV-NP also inhibited the formation of Aβ oligomers, the most toxic Aβ species. In cell assays, PPV-NP exhibited good biocompatibility and eliminated the cytotoxicity of Aβ aggregates.
The researchers further investigated whether PPV-NP could clear Aβ plaques in brain tissues. They utilized APP/PSEN1 transgenic mice as the animal model. Brain slices from the mice were cultured with and without PPV-NP for 10 h. "The vibrosections treated with PPV-NP exhibited significantly less Aβ plaques and decreased plaque areas, demonstrating that PPV-NP was capable of clearing Aβ plaques in the brain tissues." Prof. Wang says. "We envisage that our results may provide insights for the development of therapeutic strategies for amyloidosis."
The research team includes a group led by Prof. WANG Shu from Institute of Chemistry, Chinese Academy of Sciences, a group led by Prof. GU Qi from Institute of Zoology, Chinese Academy of Sciences and a group led by Prof. MA Yuguo from Peking University. The research was supported by "National Natural Science Foundation of China" and "the Strategic Priority Research Program of the Chinese Academy of Sciences".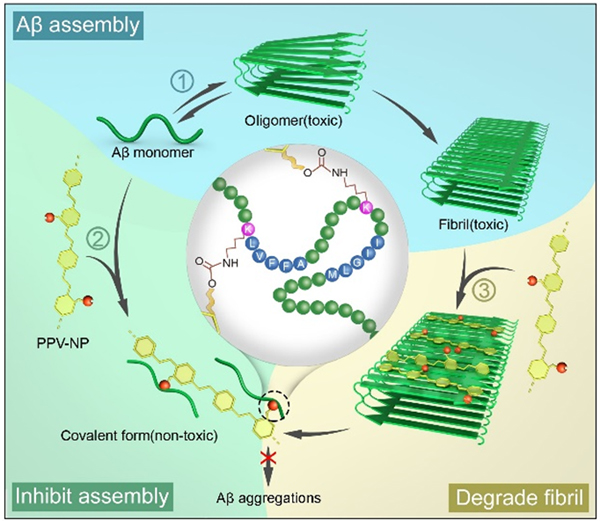 Illustration of the inhibition and disassembly effects of PPV-NP on Aβ42 aggregation. (image by Prof. WANG Shu)

Prof. WANG Shu
Institute of Chemistry, Chinese Academy of Sciences
E-mail: wangshu@iccas.ac.cn